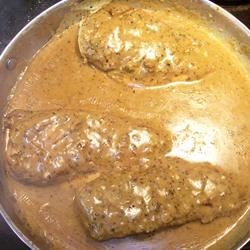 You will need!


1 cup all-purpose flour
1/2 tablespoon dried thyme
2 tablespoons dried basil
1 tablespoon dried parsley
1 teaspoon paprika
1 teaspoon salt
1/2 teaspoon ground black pepper
1 teaspoon garlic powder
4 boneless, skinless chicken breast halves
1/2 cup butter
1 (10.75 ounce) can condensed cream of mushroom soup
1 (10.5 ounce) can condensed chicken broth
1/4 cup dry white wine
1 lemon, juiced
1 tablespoon chopped fresh parsley
2 tablespoons capers
1 tablespoon grated lemon zest
Fresh mushrooms of course!


1. In a shallow dish, combine the flour, thyme, basil, parsley, paprika, salt, pepper and garlic powder. Mix well... I usually do this with a fork so my flour stays "fluffy". Drag or "dredge" the chicken through the flour mixture until the entire surface of the chicken is coated.


2. Melt butter in a medium sized skillet and cook the chicken until its no longer translucent.


3. While you're cooking the chicken, mix together the cream of mushroom soup, chicken broth, wine and lemon juice. Pour over the chicken.


4. Cover your skillet and let it simmer for 20 minutes or until juices run clear. Add the mushrooms about 5 minutes before done so they don't get over-cooked!


5. Serve hot with rice or noodles! We used rice!


NOTE: I forgot to buy capers at the store, so those weren't in the version we made. The original recipe also didn't call for fresh mushrooms... but if you have em', add em'!