This is pretty close to the Nebraska Brewing Companies recipe. =)
The recipe says it only makes 2 servings, but it probably makes 2-4, depending on how much you plan to eat. =)
4 oz. of pasta; recipe calls for linguine, I used Penne. =)
2 skinless, boneless chicken breasts.
3 TBSP. Cajun seasoning.
2 TBSP. butter.
1 red bell pepper.
1 green bell pepper.
1 green onion, chopped.
4 fresh mushrooms, sliced.
1 cup heavy cream. (heavy whipping cream in your dairy aisle!)
1/4 tsp. dried basil
1/4 tsp. lemon pepper
1/4 tsp. salt
1/8 tsp. garlic powder
1/8 tsp ground black pepper
Right off the bat, start boiling the water for the noodles. I don't know about you, but it takes me FOREVER to boil noodles. I'm just not skilled enough for that. ;) To get it to boil quickly, try a little bit of salt in it. Not too much, or your noodles will suffer!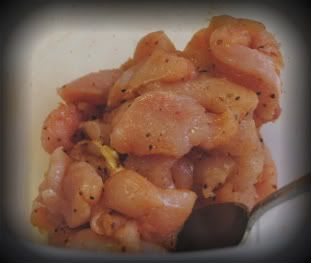 1. Cut your chicken into bite size pieces, about 1/2-inch to 1-inch. Chicken is always easiest to cut when slightly frozen, so it doesn't move around on you. =) The best way to set up a cutting board that doesn't have rubber stoppers on it, is to wet down a thin dish cloth or even paper towels, wring it out so its damp, and put it underneath the cutting board.
2. After cutting the chicken, toss into a Zip Lock bag. Put the 3 TBSP. of Cajun season in with the chicken and toss to coat. Make sure everything is coated! Just tastes better that way. Set aside.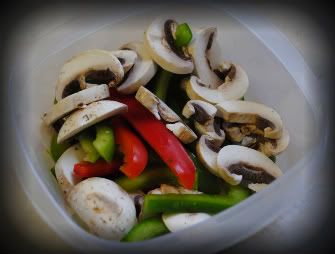 3. Wash your veggies! To clean the mushrooms, just take a damp paper towel and wipe all the dirt off! Slice your bell peppers into strips, and slice your mushrooms about 1/4-inch thick. You want them a little thicker than normal so they don't disappear into the rest of the food! Set veggies aside!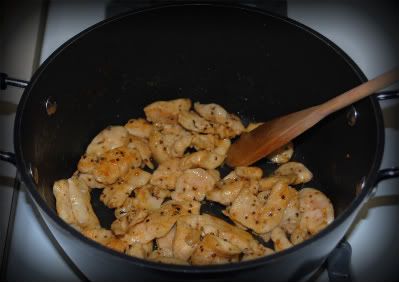 4. Heat up the two TBSP. of butter in a large skillet or pot. In this case I used a pot because I don't have a deep skillet! =)
5. After the butter is melted, put your chicken into your skillet and cook until browned on the outside. About 5 to 7 minutes.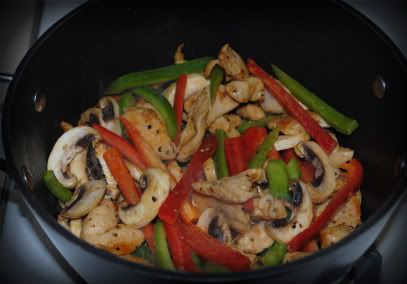 6. Add the veggies to the chicken and cook and saute for about 2 to 3 minutes. You don't want them translucent, you want them still crunchy!
7. Add the heavy cream, dried basil, lemon pepper, salt, garlic powder, and ground pepper! Take the spatula and stir it in, while scraping everything off the bottom of the pot!
8. Taste the sauce, if you feel like its missing something, add it! I always end up adding more Cajun seasoning... watch out though, it can get a little too salty/spicy!
9. By now the noodles should be done, so drain them and then put them in the chicken/sauce mixture. Toss to coat!
10. Serve hot! Parmesan cheese on top is optional!!=)